SOS - Save On Stress
Talk Shop Live Exclusive
In midlife, stress comes from all sides. Save on our best selling adaptogenic stress-management essentials and get full support, for whatever the day brings. 100% adaptogenic and calming plant and mycelium (mushroom). Women's Stress clinically backed supplement for daily adrenal and stress response support. See details and ingredients Burnout Relief tincture for instant de-stressification during tense times. See details and ingredients Stave the Crave tasty anti-stress eating chai calms sugar cravings, lowers stress and satisfies the emotional eating urge. See details and ingredients
Perimenopause Support
Everyday support to ease every transition: Pre- to peri- to post-menopause.

Benefits:
- Mood & Focus
- Stress
- Sleep
- PMS & Periods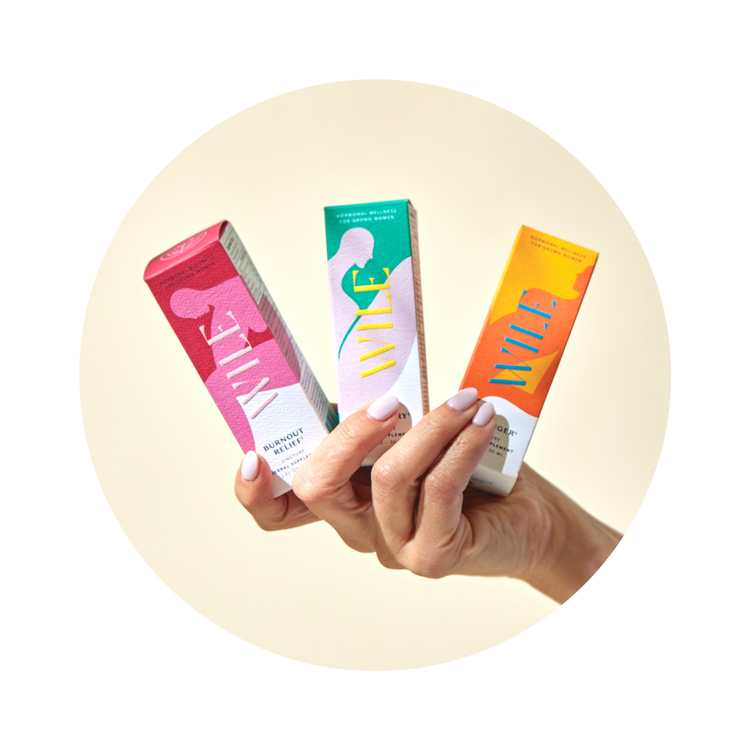 Fast Acting
Stress Relief Tinctures
Goes where stress does. Everywhere.

- Burnout Relief: revive energy
- Un-Anger: reduce irritability
- Un-Worry: ease worry
What to Expect at Every Stage
35-40ish

Life, moods, sleep and periods or PMS often start to change or get challenging. Feel better now and prepare for an easier transition in the future.
45ish

"Symptoms" or perimenopausal signs emerge or escalate. Life pressures, too. Ease the journeys and feel less impact.
55ish

"Menopause" can upend how we are used to feeling, thinking, functioning. Smooth the peaks and dips to feel more like you.
After 55

Phytoestrogens can ease the vitality loss and poor sleep associated with "age" by safely giving the body's estrogen receptors a low yet omnipresent boost.